MA Film Practice
MA Film practice is for talented and emerging filmmakers seeking to learn through making, to look beyond the short film, to define themselves as artists within film practice and to gain that vital experience demanded by the industry.
---
---
Course info
Course duration
1 year (full-time, 45 weeks)

---
Andrew Vallance – Course Leader
PhD, Royal College of ArtMA (distinction), Royal College of Art; BA (1st Class), Kent Institute of Art and Design
My research concerns memory and film, how it can show and write memory and History, through examining what is its cultural and experiential effect.
---
Course philosophy
"It doesn't have anything to do with the budget of the film. It has to do with the scope and scale of ambition, and the skill that people brought to it to realize that ambition." James Schamus – Producer.

Studying alongside the seminal and celebrated BA (Hons) Film Production course, as well as the award-winning courses BA (Hons) Costume and Performance Design, BA (Hons) Make-up for Media and Performance, BA (Hons) Animation Production, BA (Hons) Acting, BA (Hons) Modelmaking and BA (Hons) Creative Writing, the MA Film Practice course offers a unique learning environment.
MA Film Practice is driven and inspired by a broad understanding of film practice. On this course, you will be inspired to create and hone your craft as well as developing new skills to a high level, all in an environment that empowers students to collaborate with other emerging artists and filmmakers that can extend beyond the course and into the industry.
You'll be given the opportunity to propose a project where you will define your own research questions and methodologies, consider subject-related developments and engage with relevant contextual and critical discourses. This programme of study will result in a bespoke portfolio of work you will be able to use to take you into the next stage of your career.

---
Course outline
MA Film Practice represents an exciting opportunity for students to challenge and build on their previous achievements and to study at an advanced level. Students deepen their knowledge and their ability to focus on their chosen field in relation to the key aspects that inform it.
This uniquely positioned specialist programme offers the opportunity for students to develop and realise their creative ambitions through practice-based research. The course is underpinned by a team of specialist tutors who are experienced practitioners and researchers in a wide variety of film practice modes.
You'll be inspired to create and hone your craft as well as developing new skills to a high level, all in an environment that empowers students to collaborate with other emerging artists and filmmakers. MA Film Practice is based on our 180 credit MA framework. The awards attainable are a Postgraduate Diploma (120 credits) and a Masters (180 credits).

Unit 1, Strategies for Practice: Identification
This unit consists of film exercises, workshops and seminars that relate to the fundamentals of film and further develop your contextual framework and the conceptualisation of your practice.
The unit encourages you to develop more authorial focus, through independent study and group collaborations; a process that emphasises and focuses analytical and critical awareness. Experienced filmmakers, whether working in narrative, documentary and/or artistic traditions, will be challenged to assess and articulate all that constitutes their practice. And if your first degree was in a subject other than film the unit's components offer developmental opportunities, the acquisition of new technical comprehension, subject appreciation and practice related application.
Throughout this unit you will be engaged in practice-based research, identifying the appropriate method and methodology (relevant processes, ideas, works, theories), which will aid the generation of new understanding and work (audio/visual exercises and experiments that will aid the development of form and content for your Masters Project). As the unit progresses, you'll reflect on your intentions, refine your project's objectives and design its outcome (which could be a documentary, fiction, experimental or sound work etc.) in preparation for the next two units, Masters Project 1 and 2.
Masters Project 1: Research
The second unit concerns the further focusing of your research and the practical development of your specific interests. This unit brings together the first unit's taught progress with your practice related intentions and will determine your study's final manifestation. The application of research methods, the interrogation of contextual and conceptual issues, the planning of project production, will lead into the next unit, Master's Project 2: Resolution. This process will be augmented by specialist tutorials and presentations and critiques with both staff and students. The unit will require you to articulate and formalise your visual and sonic intentions (e.g. film, soundscape, material experiment, performance) and how they will be realised in a Learning Agreement.
Masters Project 2: Resolution
In the third unit, you'll implement your project plan, which has been identified in the Learning Agreement, producing a completed work. You'll also evaluate your progress and assess the project's means of presentation (e.g. single screen and/or installation) and dissemination (e.g. festival and/or digital platform) resolving the outcomes of your project in ways that communicate to both specialist and non-specialist audiences.
You can download the programme specification.
---
What students are doing
Looking to be inspired? Browse our gallery of student work and take a look at some of the projects that current students have been working on.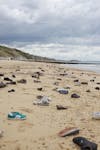 ---
Studios and resources
As a film student you'll have access to state-of-the-art, industry-standard equipment and well-equipped studios.
Studios
Studio 1: sound-proofed, purpose-built 12.2m x 7.4m
24 Channel Zero88 Lighting Grid with Dimmers and Pantographs | 164 amps of power available | Full Wrap-Around Black Curtains | Green Screen and Blue Screen Facility | Drive On Access | Smooth Tracking Studio Floor | Record and Rehearsal warning lights | Extraction | Water and Smoke Use on Stage
Studio 2: dual purpose, 70-seat lecture theatre and film studio
Smooth Tracking Studio Floor | 64 amps of power available | Lecture Theatre with Retractable Seating for 70 | 120" 16 x 9 Motorised Projection Screen | Multi Source Digital Projection | Epson Full HD Projector | Onkyo 5.1 AV Amplifier | Mordaunt-Short Front, Middle and Rear Speakers | BK Electronics Monolith Sub-Woofer | Air conditioned
Studio 3 (Elliott Road Studio Complex): stage area space 274.1 sqm
Height 6M approx | 300 amps of power available | Drive on | Make-up and Dressing Rooms | Small Kitchen Facility | Production Office | Prop Store | Lighting Scaffold Rig | Car Parking spaces
Production Offices
Large Designated Production Hub | Three separate spacious Production Offices, each equipped with one iMac, two PC Workstations and phones | Large shared Meeting Area with two iMac and two PC Workstations | High Volume Colour Photocopier and Scanner | Lounge/Waiting Area Seating 15
Specialist Facilities
You'll also have access to the following equipment:
Cameras
ARRI Alexa Digital Cinema Camera Kits | Arriflex SR3 Super 16mm film camera kits | Sony FS7 | A7s | EX3 | Z5 | HVR-270 | Canon 5D and 600D HD DSLR Cameras | Full Shoulder Rig Kits | Lenses include Canon, Samyang, Sigma and Zeiss Primes and Zooms
Location Sound
Microphones; Neumann | Schoeps | Sennheiser | Audio Limited Envoy Radio Mics | Mixers; Sound Devices 302 | 442 | SQN-3M | SQN-4S | Recorders; Sound Devices 702 | 744 | Selection of Tascam Pro Audio Location Recorders | Ambient carbon fibre boom poles
Lighting and Grip
Arrilite | Filmgear | Kino Flo | Tungsten Fresnel's | HMI Fresnel's |Dedolight Kits | Two Elemack Spyder Dollies c/w Moy Focus Track | Egripment Jib Arm | Ronford-Baker / Sachtler / Vinten / Manfrotto Tripods and Heads | Large Selection of Lighting Stands and Lighting Grip equipment
Picture and Sound Post-Production
Eight Avid Media Composer Editing Suites | Two Avid Media Composer and Pro Tools dual-purpose Editing Suites | One Online Avid Symphony Nitris DX Editing Suite | Avid Teaching Lab c/w 21 Workstations running Media Composer and Pro Tools | Avid NEXIS E4 120TB Media Server, Connected to all Edit Suites | Four Avid Pro Tools Audio Editing Suites with Avid Artist Mix audio control surfaces | Three Sound Recording Booths for Voice Over and Foley | DaVinci Resolve Digital Picture Grading Suite | Two Full HD Screening Rooms with 5.1 Surround Sound Systems | Two Lecture Theatres each equipped with a Barco 2K DCI Projector and 5.1 Surround Sound System

---
Your interview and portfolio
As part of your application, we'd like to see a portfolio of your work. You can find out more about what this should include by downloading our portfolio guidelines.
---
Accreditations
Related courses